Proactive Hydration
"Because of Nurture Sweet Treat, weaning problems and set-backs are not an issue on our farm anymore. We are no longer putting out fires. Instead, we are figuring out how to prevent the fires through being proactive. And that's really an amazing place to be." - a satisfied Nurture® Sweet Treat® customer
It pays to keep them hydrated – that's the Nurture Sweet Treat Electrolyte difference. Sweet Treat electrolyte is a cost-effective solution to help improve calf hydration after transportation, during scours and through summer heat. When fed regularly it reduces the risk of dehydration, increases water intake, and improves growth rates through 8 weeks of age.
Calf performance from 0 to 8 weeks of age
Feeding Sweet Treat supported greater growth rates from 0-8 weeks of age vs. feeding water only.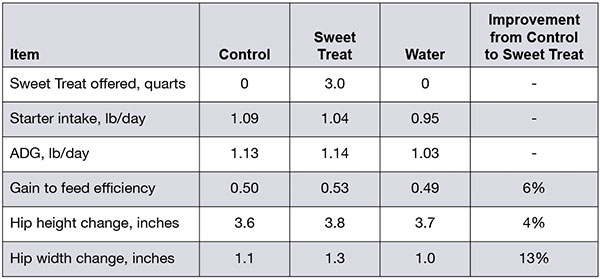 Click here for more information.
Beyond calfhood benefits, Sweet Treat's flavoring is enhanced for palatability and is available in a 25 lbs. box, which contains two 12.5 lb. bags, and bulk orders of 50 lb. bags.
Proactive is Smarter than Reactive
You understand that proactive protocols are necessary to raising healthy, productive calves. When a calf experiences scours it can lose anywhere between 5 to 10% of its body weight in water within one day. A bottle of Sweet Treat Electrolyte provides the ideal solution for rehydration. It gives you the proactive advantage that you want and your calves need.
Reduce stress with proactive hydration.