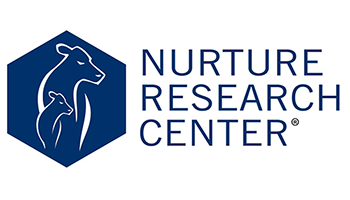 Industry-Leading Calf Research
The Nurture Research Center is a state of the art calf research facility dedicated to furthering our understanding of calf management and nutrition.
Built in 1999, work done at the Nurture Research Center facility has contributed to more peer-reviewed calf publications than at any other commercial, university or government facility.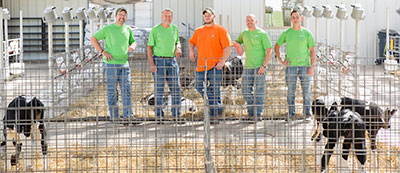 Facility Overview
Research at the Nurture Research Center is focused on two stages of development. Pre-weaning research is conducted in the Nursery, while post-weaned calves are studied in the Grower unit.
Nursery Unit (0-8 weeks)
2 rooms, 50 pens in each
Natural ventilation with curtain sides
Clear polycarbonate roof and retractable shade cloth
4' x 8' pens with deep straw bedding
Calves are fed and weighed individually
Grower Unit (8-16 weeks)
24 pens
Groups of 4-5 calves
Housed in a super hutches
Fed and weighed as a group
Data Collection - Every Trial
Temperature/humidity (hourly)
Feed offered and refused (daily)
Fecal score (daily)
Medical treatments (daily)
Calf weight (weekly)
Body condition score (biweekly)
Hip width (biweekly)
Hip height, Heart girth and Paunch girth (beginning and end)
Data Collection - As Dictated by the Procedure
Digestibility
Markers of immunity (serum IgG, tumor necrosis factor and various interleukins)
Blood constituents (glucose, urea nitrogen, BHBA, etc.)
Intensive measurements of body temperature and posture
Calf Research Findings
Work done at the Nurture Research Center has contributed significantly to the scientific community and our understanding of calf nutrition and management. Below is a list of some of the many discoveries made at the facility.
Amino acid requirements of neonatal calf
Fatty acid requirements calves < 5 months old
Crude protein requirements of calves < 5 months old
Energy requirements of calves < 5 months old
Feeding rates of milk replacer and feeding programs
Digestive and immune system maturation
Crude protein and carbohydrate sources for dry feeds
Feeding and management for heat and cold stress
Alternative proteins for milk replacer
Housing management
Use of feed additives
Peer-reviewed Contributions
Nurture Research Center research is published in the Journal of Dairy Science and the Professional Animal Scientist Journal. Notable publications include research on the amino acid requirements for calves less than 5 weeks of age and the responses to key and essential fatty acids in calves less than 16 weeks of age. Both areas are "firsts" in the field of calf nutrition and are gaining the attention of calf researchers and calf nutritionists worldwide.
Technology Overview
Results of research trials at the Nurture Research Center have been used to develop milk replacers, starters, and grower feeds that are unique to the industry. Here are some of the technologies available to calf raisers.